4 Reasons For Black Spots On Koi Fish (Treatment & Prevention)
Many of us choose koi fish in the first place as our fish tank buddy. It's because they are different from any other carp fish for their unique color pattern.
In addition, koi is a freshwater pond fish and it adds extra light to your fish tank with its vibrant color. However, you may often notice discoloration or black spots on the koi fish's body.
Sometimes, it's a natural process of koi turning black due to the aging process. However, your koi fish also gets black spots because of some horrible reasons. We have done deep research and found four main causes behind the black spots on koi fish. They are- stress, injury, black spot disease, and fin rot.
So, you need to find out the real cause and take proper action. Besides, maintaining a healthy and stress-free aquarium environment can prevent black spots on your koi fish. For this purpose, this article will help you to instruct you.
So, let's get things underway.
What Are The Three Causes Behind Black Spots on Koi?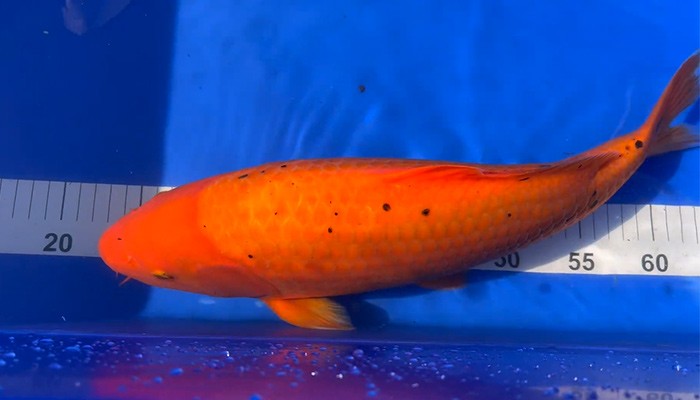 A koi fish may turn black or have black spots for different reasons. But the three primary causes are- stress, injury, and sickness. So, keep reading and you will get to know those causes and their solutions.
1. Stress
A koi fish is a very sensitive pond fish and it may get stressed in many situations. As a result, it gets black spots all over its body.
For example, if you bring your koi fish to a new pond environment, it can easily get stressed. It's because it likes stability and takes time to adapt to any environmental change. Besides, other reasons for getting stressed are predators, bad water quality, parasites, and much more.
Now, some simple symptoms will assure your koi fish's stress. They are-
Behavioral change;

Discoloration;

Black spots;

Dull appearance;

Hiding tendency.
Treatment
More or less all koi can become stressed because of sudden changes. So, if you detect that your koi fish gets black spots because of stress, you must make necessary arrangements to reduce the stress.
Now, the following instructions below will help you to solve this problem according to different types of causes.
Water Test
In most cases, koi fish get stressed because of poor water quality. So, firstly you have to check the water quality to make sure if the water causes stress. For this purpose, you can use a water testing kit. (Our Pick: API FRESHWATER MASTER TEST KIT)
If the pond water contains high nitrate and other harmful gasses, then you have to change the water. Besides, you must adjust the accurate pH level to keep a stable environment. Finally, remove the algae, and extra sludge and clean the filter media to reduce the ammonia and nitrate level.
 Treating Parasites
Your koi fish may get stressed because of many harmful bacteria and parasites. They can cause stress to your koi.
So, you need to apply an anti-bacterial treatment to remove parasites and bacteria from the fish pond. These treatments are safe for your fish and you can use them anytime. But you should follow the manufacturer's instructions to use the right dose. (Our Pick: Tetra Lifeguard All-In-One Treatment for Aquariums)
 Removing Predators
Predators are the most common causes of stress on koi fish. For example, a prey bird such as a red kite flies around the koi pond. As a result, the koi fish will gradually become stressed. So, it not only develops black spots on its body but also stops eating because of the kite.
So, you have to remove the predator from the fish pond environment as soon as possible. For this purpose, you can use different methods like alarm bells, netting, sprinklers, or decoys.
Another option is to dig the pond deeper or add some hiding spots in the pond. It's because the more the koi fish go deeper, the more they feel safe from their predators which reduces stress.
 Stress Relief Products
If you need to treat stress on an emergency basis, then some stress relief products will be a great help. It works well to reduce a koi's stress. But it can only be a temporary solution since it does not solve the main cause of stress. (Our Pick: API STRESS COAT Aquarium Water Conditioner)
Prevention
You can also make some arrangements besides treatment to prevent further stress. So, go ahead and keep reading to learn how to prevent the stress of koi fish.
Add filter media to the fish pond to maintain a healthy water environment in the pond.

(our pick: Fluval Biomax Bio Rings, Biological Filter Media for Aquariums)

Do not overstock the pond with too many fish.

Add some hiding spots or extra shelter in the pond as the koi fish need their own little space sometimes.

Do not allow any predators like hawks, Heron, or cats around the koi pond.

Re-cycle the water before adding the koi fish to a new pond.
2. Injury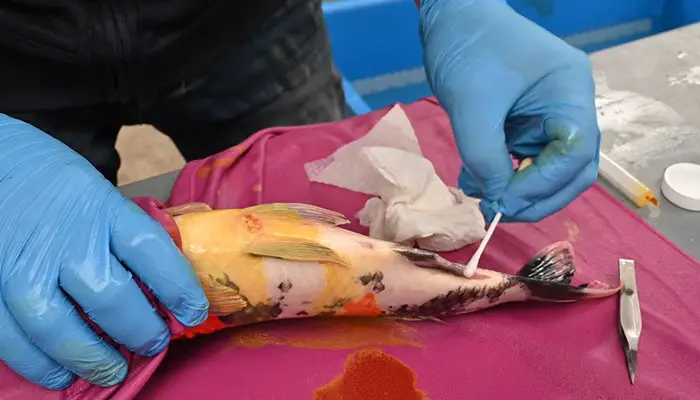 One of the most common causes behind the black spots on koi fish is injury. A koi fish may get wounded for many reasons. As a result, the wounded area becomes visible by the koi turning black or showing black spots.
If you put some aggressive fish in the pond along with the koi fish, they may get into a fight with the koi fish. Thus a koi gets injured and later has black spots. Besides, a koi also becomes wounded because of the hard stuff like stones in the pond.
You can investigate the injury by observing your koi fish. Your koi can get wounded if you see an abnormal movement of your koi fish or not moving at all.
Treatment
Your koi fish will heal from injury easily if you follow these instructions-
Remove the koi from the main pond and quarantine it.

Use antibiotics or any antibacterial property (antiseptic).

You can apply the clove oil to heal an open wound.

Apply Acriflavine solution to remove the pathogenic bacteria from the pond.

Feed your koi properly.
In this way, your koi will heal within a few days and you can bring it back to the main pond.
Prevention
The prevention of getting injured is pretty straightforward. Firstly, make enough space for the koi fish in the pond. Secondly, do not overstock the pond and it will prevent the fight. Finally, protect the pond from every kind of predator to prevent injury.
3. Black Spot Disease
Black spot disease or tang disease is a common disease among all fish. So, a koi fish is no different from them.
The black spots that you see on your koi are typically tiny flukes. They are flatworms that live in the freshwater environment and also in many birds' intestines. Besides, the eggs of these worms pass on the pond through the birds' feces and thus it spreads the black spot disease.
Now, you can diagnose the black spot disease by observing several symptoms. They are-
Lethargy;

Discoloration;

No appetite;

Tiny black spots on the body;

Scratching against a solid object.
Treatment
After detecting the disease, you should start the treatment as soon as possible. The steps below will tell you how to treat your affected koi fish-
 

Quarantine your koi from the main pond immediately.

 

Bath your koi fish with a formalin solution according to the instructions.

 

Give it a freshwater dip.

 

Use Praziquantel in the quarantine tank to remove the worms (our pick: Hikari Usa AHK73254 Prazipro for Aquarium)

 

Filter the entire pond water to eliminate all flukes.
Thus your koi fish will get well within a few weeks and get free from all the black spots.
Prevention
The prevention of flatworms will save you money and energy. So, keep reading to know how to prevent black spot disease in the koi pond.
Prevent the birds from getting close to the fish pond. You can use nets or decoys for that.

Add filter media with the pond. It maintains a balance in the pond environment.

Don't crowd the pond with too many fish.

Put some algae and worm-eater animals in the pond.

Don't overfeed your koi.
4. Fin Rot
You can see the black or brown spots on your koi fish because of the fin rot. Fin rot disease is one of the common problems among both freshwater and saltwater fishes. Typically, it is a bacterial infection.
However, it can also be a fungal infection. If the fin rot is caused by the fungus, then you will see the white spots on the koi. Likewise, if it's black spots, then definitely it's a bacterial infection.
A koi fish gets affected by the fin rot disease for many reasons. But the common causes are- stress, poor water quality, injury, and insufficient nutrition.
Fin rot itself is not a fatal disease but it can be the earlier stage of so many harmful diseases and other serious problems. The symptoms of this disease are-
Black or brown spots on fins and tail.

Lethargy.

No appetite.

Torn fins and tail.

Skin inflammation.
Treatment
Although the koi fish can recover from the fin rot in some cases, it's always a wise idea to treat the fin rot just after you detect the problem. Thus it will prevent further problems in the future.
Firstly, find the root cause of the fin rot and then treat it according to the reason. However, medication is the best treatment for fin rot disease.
So, if you detect the fin rot problem on your koi fish, use a good antibacterial or antifungal product so that it cannot attack the fish bones. If it does not work, don't hesitate to meet a vet.
The vet may recommend some medications. At the last stage, he will recommend antibiotics. But no matter what medicine your koi takes, you must change the water and improve its quality.
Prevention
In most cases, your koi gets fin rot disease because of stress and lack of nutrition. So, feed your koi high-quality food and a stress-less environment.
Besides, poor water conditions are responsible for giving birth to many bacteria and fungi. So, you must keep the pond water clean with the right pH balance.
Finally, protect your koi from the predator's attack. Thus it will be free from any injury and fin rot will be prevented.
 Frequently Asked Questions
How Can I Prevent Koi Fungus?
You can follow these instructions to get rid of the fungus in the koi pond-
Test the water quality and treat it accordingly. Use pond salt to increase the immune system among koi fish. Work for aeration. Make sure that your pond gets enough sunlight during the daytime and fish community does not fight often which leads to injury and later fungal infection.
 How Can I Treat Black Spots On My Koi?
The koi fish get black spots on their body for different reasons. But first, you need to find out the primary cause of the black spots. After that, look for guidelines about how to treat black spots on koi fish according to the cause.
For example, if it happens for some disease, then you need to quarantine the koi fish and treat it under the vet's instructions. However, reducing stress and providing nutritious food are the basic treatments for black spots.
What Are The Tiny Black Spots On My Koi Fish?
The tiny black spots on the koi fish can be flukes or flatworms that cause the black spot or tang disease. These worms take a koi's body as their host. So, if you see some small black spots on a koi fish, diagnose it properly to detect the flukes.
Conclusion
The koi fish are indeed the most charming creatures in your pond. But noticing something unusual such as sudden black spots is also something to worry about.
The black spots on koi fish can be a sign of different problems. So, you need to observe the other symptoms along with the black spots and find out the root cause. Thus you can treat the black spots in the right way.
We hope that we provide enough information in this article which will help you with your problems.
Latest posts by Howard Parker
(see all)