GE Silicone 1 Vs 2: Which One is the Best for You?
In the coating and sealant industry, GE silicone is the go-to option right now. There are multiple lineups of this GE silicone.
The most famous ones are GE silicone 1 and GE silicone 2. People are obsessing and getting confused over these sealants.
So, what's the better option between GE silicone 1 vs 2?
The GE silicone 2 provides better specifications than silicone 1. It has greater mold-free protection and flexibility. However, the GE silicone 2 comes at a more expensive price than the silicone 1. On the contrary, GE silicone 1 has a faster current time than GE silicone 2. 
Only this bit of information won't be enough for you. Although it's valid, you have to know all of the information. Read the full article to know more!
Get started here.
GE Silicone 1 Vs 2: Brief Comparison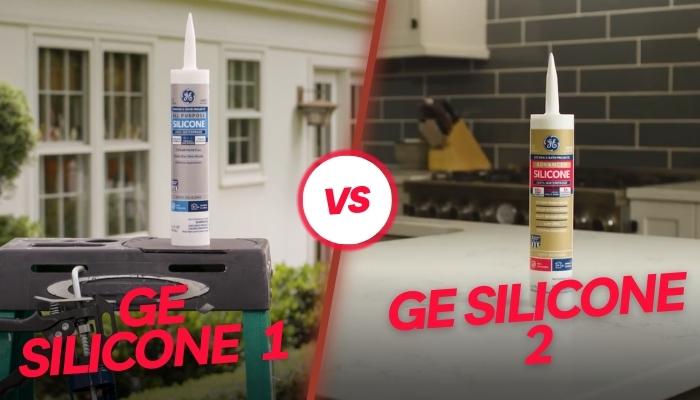 Before heading into the main section, you need a quick overview to capture the summary. I have provided brief information on the critical differences between these two silicones below. Give it a read to know all the details!
| | | |
| --- | --- | --- |
| Differentiating factors | GE silicone 1 | GE silicone 2 |
| Flexibility | Less | More |
| Water-read Time | In 24 hours | In 30 mins |
| Safety | High | High |
| Curing Time | 24 hours | 36 hours |
| Price | Starts from 9.98$ | Starts from 11.98 |
Now that you know the small little information, let's dive deep. In the next segment, you'll find an elaborate discussion of the following factors. Read it thoroughly to find out the definitive decision!
Difference Between GE Silicone 1 and 2: Extended Comparison
Only knowing the key factors and deciding won't be the ideal option. Learning all the pieces of information associated with these factors is beyond critical.
Don't worry though, I've got you covered in this part. The extended comparison of the factors mentioned before is provided below, give it a good read!
Curing Time and Type
Different sealants have different curing types. It is very important to know this type before buying one.
The GE silicone 1 is an acid cure. It's basically using vinegar to cure. Accordingly, there is an acidic smell to it. On the other hand, GE silicone 2 is an ammonia cure. The curing agent for this sealant is ammonia.
If you're wondering about the GE silicone 1 cure time, it is about 24 hours. It should be done in 20 hours, but just to be safe, wait for a day. On the other hand, the GE silicone 2 takes about 36 hours to fully cure. It is more than 24 hours.
A pro tip will be to advance with keeping the curing time as a reference. Wait 48 hours to avoid any unexpected incidents. 
Winner: In this section, the GE silicone 1 is the winner for having the lesser curing time!
Safety
Since a wide use of silicone sealants is in aquariums, the sealants should be safe. Buying aquarium unsafe sealants can cause a mishap in the aquarium.
The GE silicone 1 is safe for aquarium use. In fact, it is widely recommended for aquarium use all over the US. Although the GE silicone 1 is not manufactured by a specialized brand, it is still safe. It's also rigid and won't shrink, crack, or break.
On the other hand, the GE silicone 2 is also usable in aquariums. It is safe enough for the fish in aquariums and won't cause any harm. It's known as "neutral cure" sealant. This basically means that when it cures, it doesn't release acids while curing.
Note that, this information is only valid for the "aquarium sealants". Regular GE silicones are not recommended to be used in aquariums. If you use the wrong sealant, you can use a heat gun to remove it. Here is a recommendation for top-quality heat guns for your convenience- SEEKONE Heat Gun
By using the heat guns, misplaced sealants will come out in no time!
Winner: In this segment, the winner is the GE silicone 2 for being the safer option!
Mold-Free Product Protection
Choosing a sealant can solely depend on this aspect. The greater the mold-free product protection, the better your sealings will last out there!
The GE Silicone 1 has 7 years of mold-free product protection. If you seal a product with this sealant, for 7 years there'll be no molds. Ensure that the sealing is proper to last 7 years. Along with that, it has a 24-hour restriction before water contact.
On the contrary, the GE silicone 2 offers better mold-free product protection; but better. This sealant offers mold protection for 10 years.
So when comparing Silicone 1 vs 2 for mold making, the GE silicone 2 is better. It will be rain-ready in only 30 minutes!
Winner: The GE silicone 2 is the winner here for greater mold protection!
Specifications
The different materials used in the GE silicones really differentiate them from each other. Along with that, different materials provide different characteristics, specifications, and textures to the sealants.
In the GE silicone 1 sealant, ASTM C-920 is used. Standard Specification for Elastomeric Joint Sealants that are cured single or multi-component, cold-applied elastomeric sealants. The class level is 25 here.
On the other hand, the GE silicone 2 sealant uses the same ASTM C-920. However, its class level is 35. So, the GE silicone 2 has 35% joint movement.
Also, it has 40% more flexibility than the GE silicone 1. Flexible silicones can adapt to adverse weather!
Winner: The GE silicone 2 wins this part because it has greater specifications.
Price
Buying a product always has a limiting factor, which is budget. So whenever comparing or choosing a sealant, taking a good look at its cost is necessary.
For the GE silicone 1, the price starts from 9.98$. It is cheaper when compared to the ge silicone 2. You can choose different variants based on their purposes, which can increase the cost. However, 9.98$ is the base price.
On the other hand, the GE silicone 2 is a bit more expensive. It starts at 11.98$. When buying in big bulks, it'll get more expensive when compared with the GE silicone 1.
Similarly, you can also tweak the variants that may alter the price.
Winner: From the cost and budget perspective, the GE silicone 1 is the clear winner!
GE Silicone 1 vs 2: Which One Should You Pick?
Silicones have a couple of distinct properties. If you can get your priorities right based on them, you can make the decision effortlessly. For instance, your priorities will vary when comparing the GE advanced vs supreme silicone.
If you are tight on a budget and looking for a fast-curing silicone, pick silicone 1. The GE silicon 1 can cure faster compared to the GE silicone 2. On top of that, the GE silicone 1 is cheaper than the silicone 2. 
However, the specifications are comparatively lower.
On the other hand, pick the GE silicone 2 to get some extra features. It will provide a longer mold-free duration and better flexibility. 
Also, you can achieve better joint movement. Still, you'll be spending more money and curing time by picking this option. 
FAQs
How Can You Tell If Silicone Is Food-Grade?
You can tell if silicone is food-grade just by pulling on it. The color tone you can see after stretching the silicone will dictate if it's food grade or not. Pull a silicon product from both sides. If there's white color, it is ordinary silicon. But if it is blue in color, it is food-grade silicone. 
Does Silicone Hurt Fish?
No, silicones do not hurt fish. However, the silicones which do not hurt fish are well-labeled. If you're planning to buy silicone for your aquarium, watch for these labels. Beware of the regular silicones. They contain fungicides that can kill fish and beneficial bacteria inside your aquarium.
Do Snails Eat Silicone?
Yes, snails do eat silicone. On top of that, they can also eat the applied paint. This theory has been tested with multiple types of silicone. Whether it is hybrid, glazing, or polyurethane-based silicone, snails can consume them. The sealants usually have an overpainting, which snails can eat as well.
The Final Words
This is the end of this article. I hope that you're now aware of the better choice between GE silicone 1 vs 2.
Whichever silicon you are purchasing, always try to choose the bio-degradable ones. You can help preserve nature's condition that way!
Wishing you all the best.
Latest posts by Howard Parker
(see all)