Chemi Pure Elite Vs Purigen: Which One Is Better Pick?
Chemi Pure Elite and Purigen are two products used for filtration purposes in aquariums. Even though they are used in the same manner, they perform differently. But to know which one is for you, Chemi Pure Elite vs Purigen can paint an analytical picture.
Both Chemi Pure Elite and Purigen are great at filtration. Chemi Pure Elite uses an ionization method. These ions attract metals and other byproducts from nitrates, phosphates, and silicates. Whereas Purigen doesn't work with these ions. It has a polymer with macro-porous. By these synthetic polymers, Purigen can remove any sort of soluble and insoluble products. On the plus side, Purigen can be reused but Chemi Pure Elite can't. 
Once you know the products and what are your necessities you can choose between Chemi Pure Elite and Purigen. Some users even said that they use them together to get better results. But be sensitive about the lives in the aquarium.  
Comparison Between Chemi Pure Elite and Purigen
| | | |
| --- | --- | --- |
| Feature | Chemi Pure Elite | Purigen |
| Chemicals  | Organic Scavenger Resin, Extruded Pelletized Carbon, Granular Ferric Oxide | Macro-porous synthetic polymer |
| Removes  | Balancing Phosphate, Biload, Nitrogenous toxin,   Nuisance algae | Soluble and Insoluble elements  |
| Reusable  | No | Yes |
| Manufacturer  | Boyd Enterprise | Seachem Laboratories |
What are Chemi Pure Elite and Purigen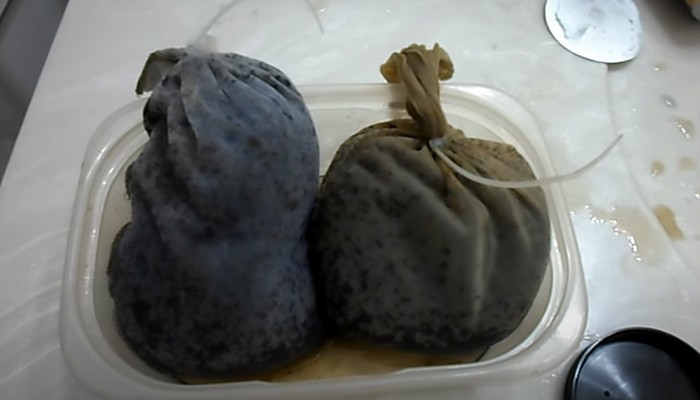 Chemi Pure Elite and Purigen are chemical products that are used in the filtration process of aquariums. They absorb toxic chemicals from the water in the form of ions. Depending on which product you are using, they target some definite chemicals and absorb them.
Before the modern filtration module was introduced the main process of water filtration in aquariums was based on these synthetic chemical absorbents. There is still the best way to purify your aquarium water along with the filtration device.  
Pretty often people think that these products are harmful to your aquarium. But in reality, how much these products are harmful to your aquarium depends on how you are using them and how much you recognize your product.
Here we are talking about recognizing the product because it is important to know which product specifically you need for your aquarium and select the products likewise.
If you use the wrong product or use the right products in excess amounts there is a probability that you might end up hurting the aquatic life in your aquarium.
Comparison of Chemi Pure Elite and Purigen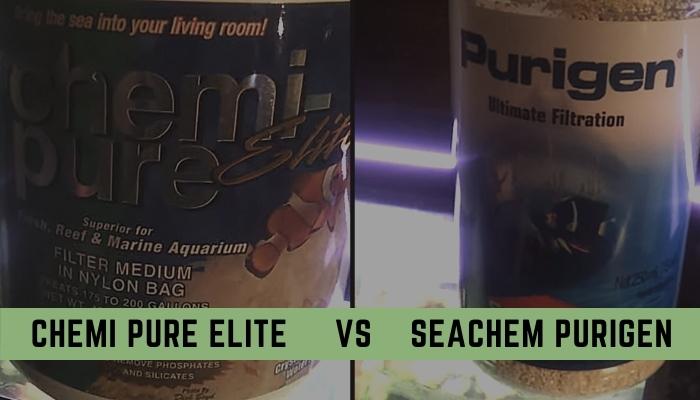 If you are confused between Chemi Pure Elite and Purigen then compare these two products side by side. The best way to do this is to know them in different categories. 
Chemical Formation
Chemi Pure Elite
The chemicals present in the Chemi Pure Elite are designed to remove bio-loads and toxic products. The presence of Extruded Pelletized Carbon and Organic Scavenger Resin plays an active role in this filtration. These chemicals of Chemi Pure Elite also work on the removal of algae. 
Chemi Pure Elite is mostly known for the presence of Granular Ferric Oxide. This is prominently known as GFO. GFO works as iron particles and attracts phosphate and silicates in the water. Then they form a bond and the filter in the aquarium removes the product. 
Purigen
Unlike Chemi Pure Elite, Purigen doesn't have active elements. It doesn't contain any sort of ion mixture. Also, absorbent chemicals are absent in the product. But it has organic filtration resin. 
In Purigen you will find a macro-porous synthetic polymer. The polymer has circular and reticular microscopic pores. With the help of these polymers, Purigen works on both soluble and insoluble impurities. 
Functionality
Chemi Pure Elite
The specialty of Chemi Pure Elite is that it works best on heavy metals, DOS, Phosphate, Silicates, and nitrogenous compounds. The strength of Chemi Pure Elite is its ionized particles. They attract unwanted and toxic metals and purify the water. 
While working Chemi Pure Elite balances the pH of water by controlling the level of phosphate and nitrate. Also in controlling nuisance algae, Chemi Pure is the best product. Therefore there is no buildup of parasites on the stones or substrate of the aquarium. 
The use of Chemi Pure Elite doesn't need any iron oxide or phosphate reactor. This saves a lot of money for the user. Also, it can be used without any nylon filter bag. 
Purigen
In removing the soluble and insoluble impurities that don't need ionization Purigen is removed by Purigen. The capacity of Purigen to remove insoluble products is over 500% compared to other products.
It also participates in removing nitrogenous organic waste like ammonia, nitrites, and nitrates. The presence of an excess of this nitrogenous organic waste is harmful to the water of the aquarium. 
Also, Purigen is known as the least waste-produced water-purifying product. This means once Purigen is done with refining it leaves almost zero traces. It raises the amount of redox and gives clarity to the water. Purigen has the capability to work efficiently in both fresh and marine water.
Maintenance
Chemi Pure Elite
Chemi Pure is a one-time product. Thus once it does the job of purifying the water, you will need to change it depending on the byproduct produced in your aquarium. 
Generally Chemi Pure Elite needs to be changed after 3-4 months. But in case of heavy loads, it needs to be replaced every 2-3 months. Once the aquarium settles, the amount can be reduced. 
Purigen
The most beneficial side of Purigen is it is a reusable product. Within a few months of application, the product reaches its full phase. It starts to change color. Then you can use bleach to regenerate it.
The product can be reused up to ten times. In case of heavy biloads the replacement has to be done sooner. If the color changes pretty often, it is the major indication that it is time for a new Purigen.  
Benefits
Chemi Pure Elite
Stabilizes the pH level of water by controlling the level of phosphate and nitrate. 

It helps in keeping the water clean.

Removing the metallic toxic products reduces the loss of aquatic life in your aquarium. 

Chemi Pure Elite creates a neutral environment for aquatic life. This environment gives positive neurological stimulation to the new animals.

Helps in boosting the appetite of aquatic life.

Dismisses any form of osmotic shocks.

Neutralizes the odor from phenol and other chemicals.

Worked on the filter for about 4 months.

Available in different sizes.
Purigen
Doesn't have any sort of ions. Thus works on both soluble and insoluble products.

Works faster than other filtration products.

Even in the absence of ions, it works perfectly on organic waste from nitrogen.

Leaves no trace after filtration. 

Increases the level of redox in water.

Can be reused by regenerating through bleach.

Suitable for both aquatic and marine life.
Disadvantages
Chemi Pure Elite
Chemi Pure Elite can remove some of the important ions from the aquarium

Can't be reused.

Needs often replaced in case of heavy loads.

Doesn't have any color-changing induction that the replacement is necessary.
Purigen
Doesn't have much effect on metallic byproducts. 

The regeneration has to be done often.

It is important that other chemicals don't get through the aquarium in the presence of Purigen. 

The regeneration process can be tiresome.
Manufacturer
Chemi Pure Elite
Chemi Pure Elite is produced by Boyd Enterprise. They have been manufacturing several products for aquariums for 50 years. Among all their products the most selling product is the Chemi Pure series. 
They have introduced this series considering the different needs of the customer. They realized that not all aquariums need to remove carbon or phosphate at the same time. Thus they introduced these products to make sure that they fulfill the requirements of their customers. 
If you are interested in buying their product, they are available on Amazon. Also, you can place an order from their websites.
Purigen
Seachem Laboratories Inc. is the producer of Purigen. They were established in 1980. And from then they mastered their products for aquariums. For 40 years they have been selling their products in the USA and now they have expanded their business in 60 countries.
Along with Purigen they also produce accessories for aquariums. From glassware to water testers, they make them all.
The goal of Seachem is to produce products on a budget so that they can reach people who have aquariums as a hobby to small businesses. One can also find medicine and plant seeds under the tag of the Seachem. 
Their website can help you to locate the nearest dealer. Also, you can buy authentic products from Amazon. 
Which One To Choose Between Chemi Pure Elite and Purigen
It is difficult to tell which product is suitable for you. After comparing each product in several categories you need to choose one according to your necessity. 
If you are targeting to remove any metal you will have to go for Chemi Pure Elite. But if the target is insoluble and soluble elements then Purigen is a good choice.
Also budget is an extensive factor in decision-making. In case you have time to regenerate the Purigen then its reusable quality can help you to save some money. On the other hand, if you think replacing the product is more suitable then Chemi Pure Elite is the choice.
In general, the effectiveness of Chemi Pure Elite is more than Purigen. As the target removal is more with it. But that doesn't make it the best choice. For mild cleanliness, Purigen is the better option. 
Users have mixed the two products to get the best result. They say that this extra step helps them to boost their aquarium filtration. But make sure that you mix them in the correct proportion without going overboard. 
FAQs
Can You Use Purigen And Chemi-Pure Together?
Reviews say that people have been running this mix on their 40G for the last 1.5 years and the combo functions admirably. They run two of the 11oz Blue pockets with two 100g Purigen packs in my 306 canister that they trade out month to month for new blue pockets and newly recovered Purigen. 
Can I Use Carbon And Purigen Together?
They can definitely be utilized together, and utilizing carbon ought to make your Purigen last much longer. I utilize both. They do various things generally. In the event that you needed to decide, I would utilize a generally excellent grade carbon 1st, and Purigen second.
Does Chemi-Pure Help Algae?
Chemi-Pure Elite is appropriate for all aquarium types, including freshwater, bitter, and reef tanks. Assuming you're looking to at long last dispose of difficult green growth (or just need to diminish the number of water changes that you need to do), Chemi-Pure Elite is an incredible decision.
Can You Put Chemi-Pure In A Reactor?
A significant addition to Chemi Pure is to run it in circumstances where one, by and large, doesn't have a reactor. It is perfect in sumps or channels socks or canisters however which would be the reason it comes taken care of. Yet, use in the reactor takes care of business. Simpler support for the Chemipure than evolving carbon.
What Does Purigen Absorb?
Purigen assimilates organics like tannins and nitrogenous waste. These kinds of waste stain the water, cause blurring, and can prompt unfortunate fish well-being and foul scent in the aquarium. Purigen assists with keeping your water completely clear and your waste levels low by gathering up these organics.
Final Words
Deciding between Chemi Pure Elite and Purigen can be confusing. While deciding Chemi Pure Elite vs. Purigen can be a great help. It helps to show the two products categorically. 
But remember no matter which of these products you choose they are best at their job. But using them in excess amounts is dangerous for the tank. After installation keep note of when to change the product or rejuvenate them. This will ensure that your tank's water is safe and healthy for aquarium life. Before applying the products for the first time read the label and instructions very carefully and follow them. This will ensure the safety of the aquatic life in the aquarium.
Latest posts by Howard Parker
(see all)